This post is also available in ITALIANO
It increasingly happens to me to stop and look at wonderful bathrooms with freestanding bath and reflect on the way a bathroom could reflect a story: the one who chose it.
If you think about it, that's the interior design: every product tells the story of the designer, the producer and the ones who chose them for their home.
However, let's start from the beginning: do you know what does "freestanding bath" mean?
The freestanding bath is a bathtub free to be install, as an alternative to the built-in one.
I'm doing some researches for a customer and, while browsing the antoniolupi's catalogue, I'm impressed by their capacity to develop very different projects, keeping the recognizability in the world of the bathroom furniture.
You could be interested in the interview to andrealupi
Every bathtub antoniolupi is able to take us in a different universe and turn a particular moment into other different declinations and sensations. Every bathtub tells about a mood, an atmosphere which reminds of a precise environment and style and different necessities.
That's my selection.
Ago
Simple shape, subtle and distinct profiles, Ago is a wrap-around freestanding bathtub. It menages both to look very welcoming and to elegantly insert into the bathroom.
The oval shape is an evergreen as far as the freestanding baths are concerned and antoniolupi with Ago menaged to reinterprete it in a clean, original and delicate way.
It's perfect to the simplicity lovers and for the one who pay attention to the details.
Dune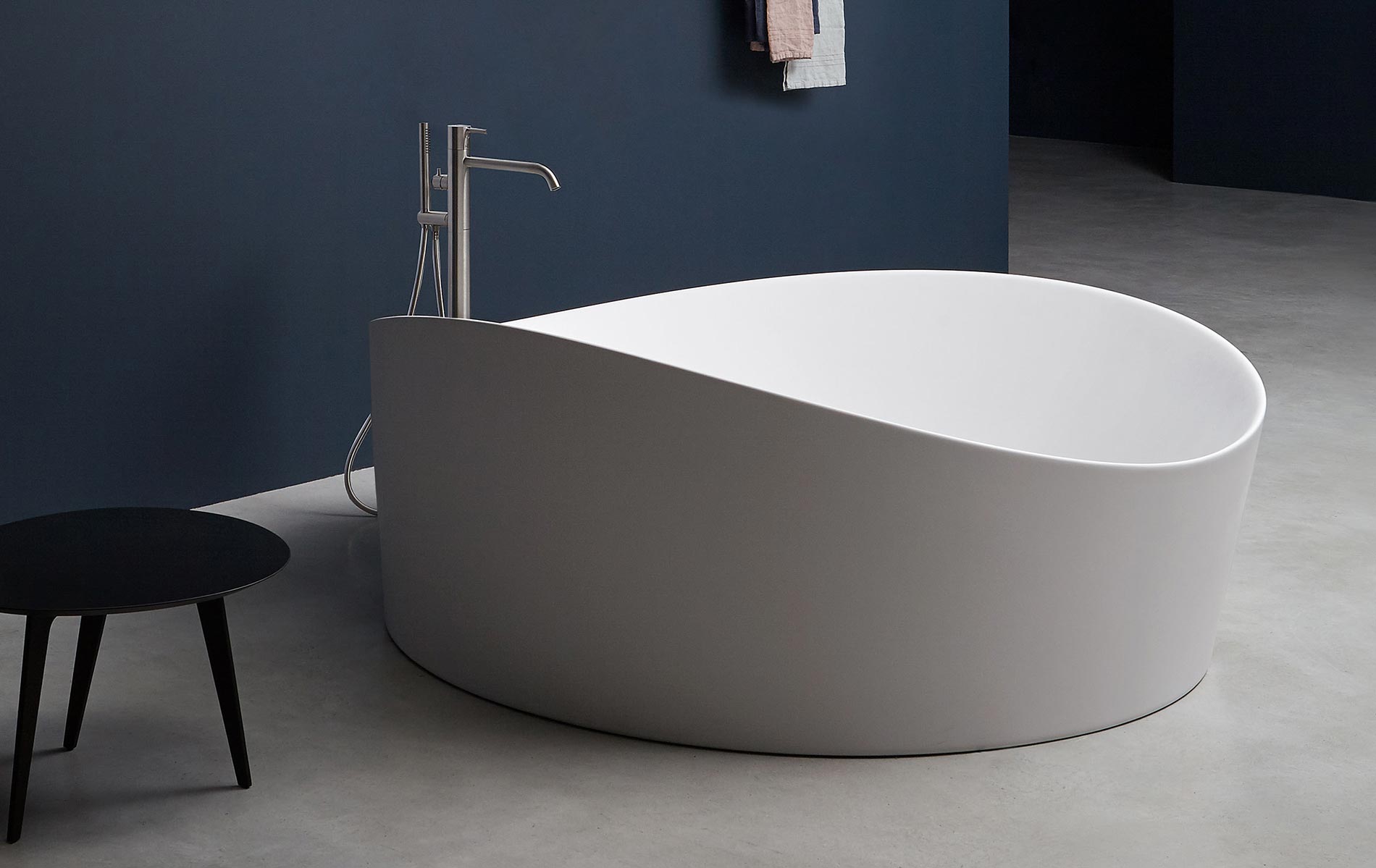 A circular base and a sinusoidal edge get together to remind of a dune of the desert. Dune has the power of turning the bathroom into an home spa. Because of its dimensions (172 cm x 168 cm x 64,5 cm) it needs of a wide space, in order to create a real relax corner. It's perfect to the ones who would like a little spa at home and would never give up comfort.
Edonia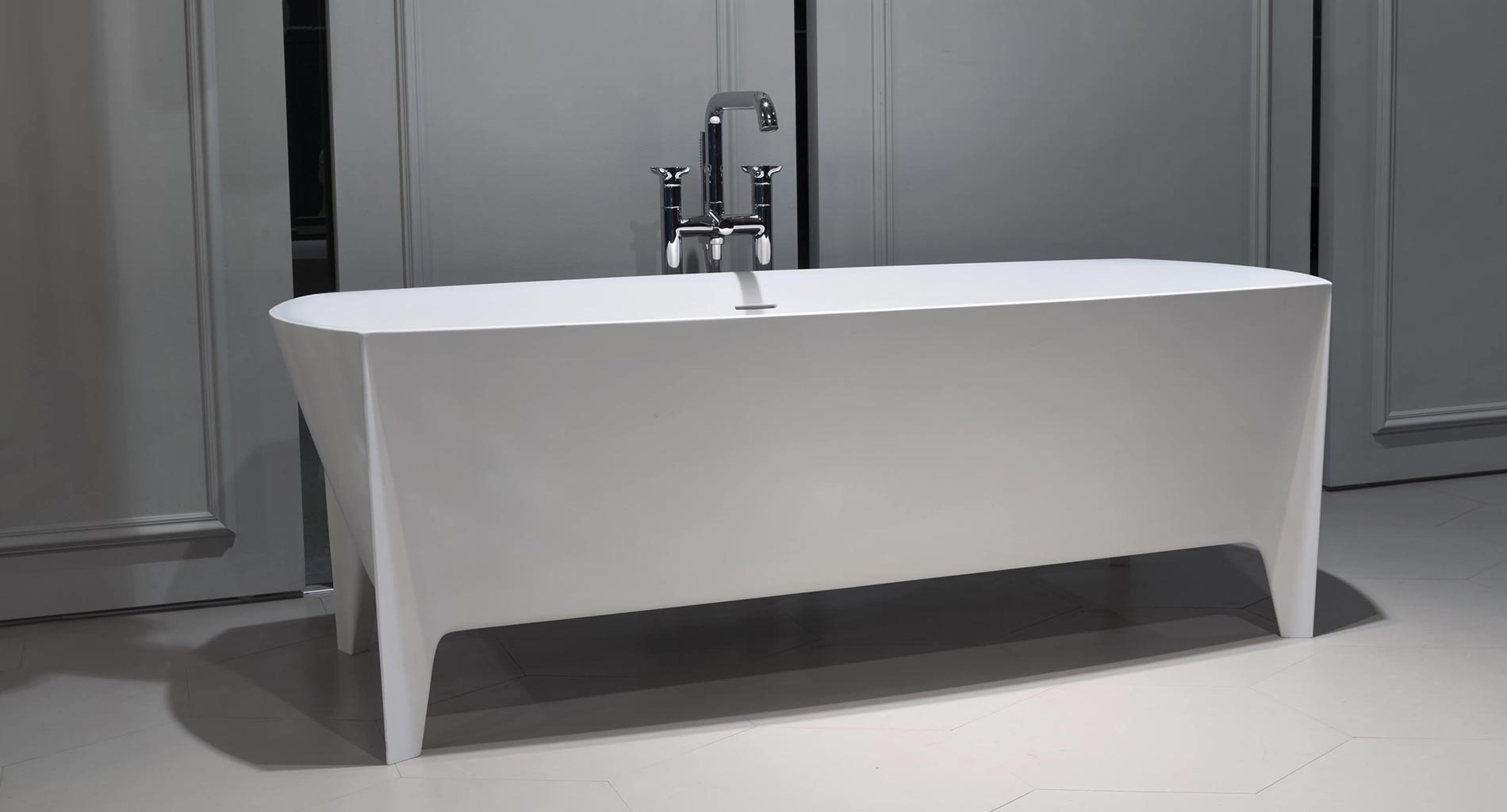 Edonia is a freestanding bathtub that reminds of the traditional conception of bathtub, but with a modern touch. A monoblock where the legs and the basin make one and the rectangular shape is blunt on the sides. Let's imagine retrò-looking bathroom, with little cement tiles and woodwork walls. This is a the bathtub for the ones who want to relive a distant memory, between the past and the present.
Epoque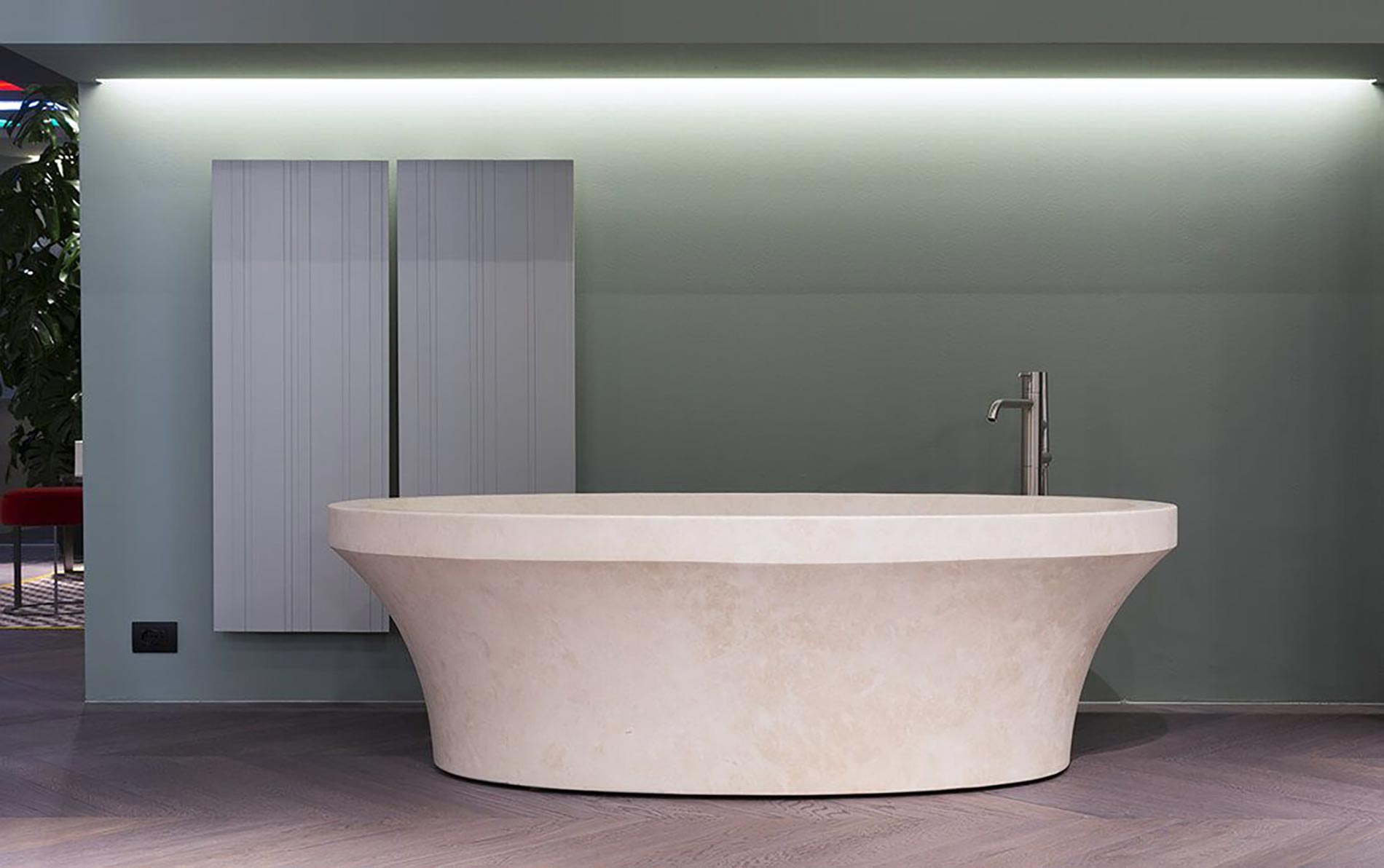 A very massive bathtub: the attention is brought to the material, a block of Amazzone stone. Here, the natural stone is recalled both by the visual and tactile dimensions, for a green and wild bath, as if you dived into the waterfalls of the wild nature.
Biblio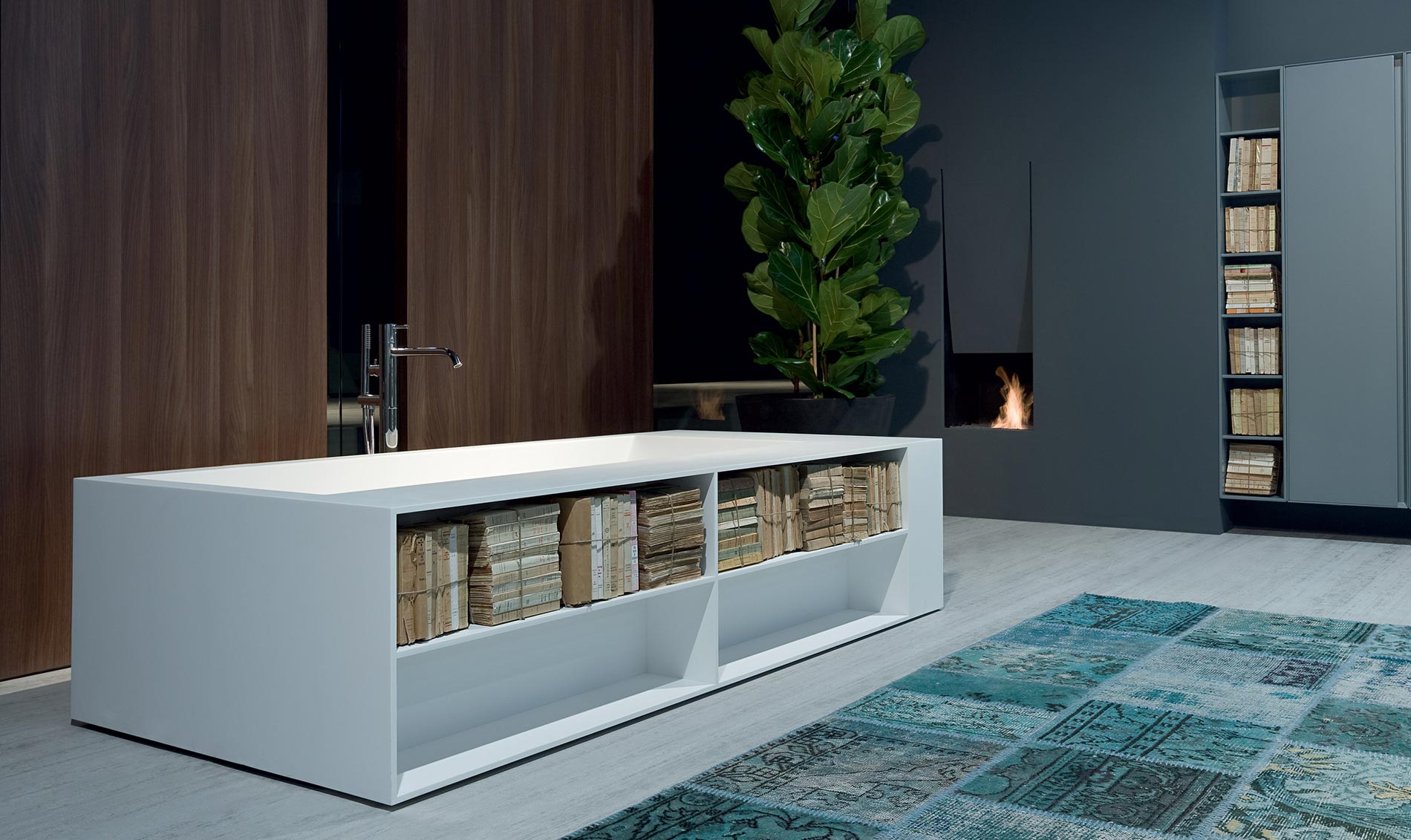 As the name implies, Biblio not only is a bathtub, but also a library. Totally immersed in water and foam, you're free to choose what book you would like to read: that's most complete conception of relax. Its design is squared and linear, with essential lines, but it introduces itself as a very meaningful bathtub. It's perfect to the ones who can't give up the functionality and whose best idea of relax is imagining other worlds, the novels' ones.
Reflex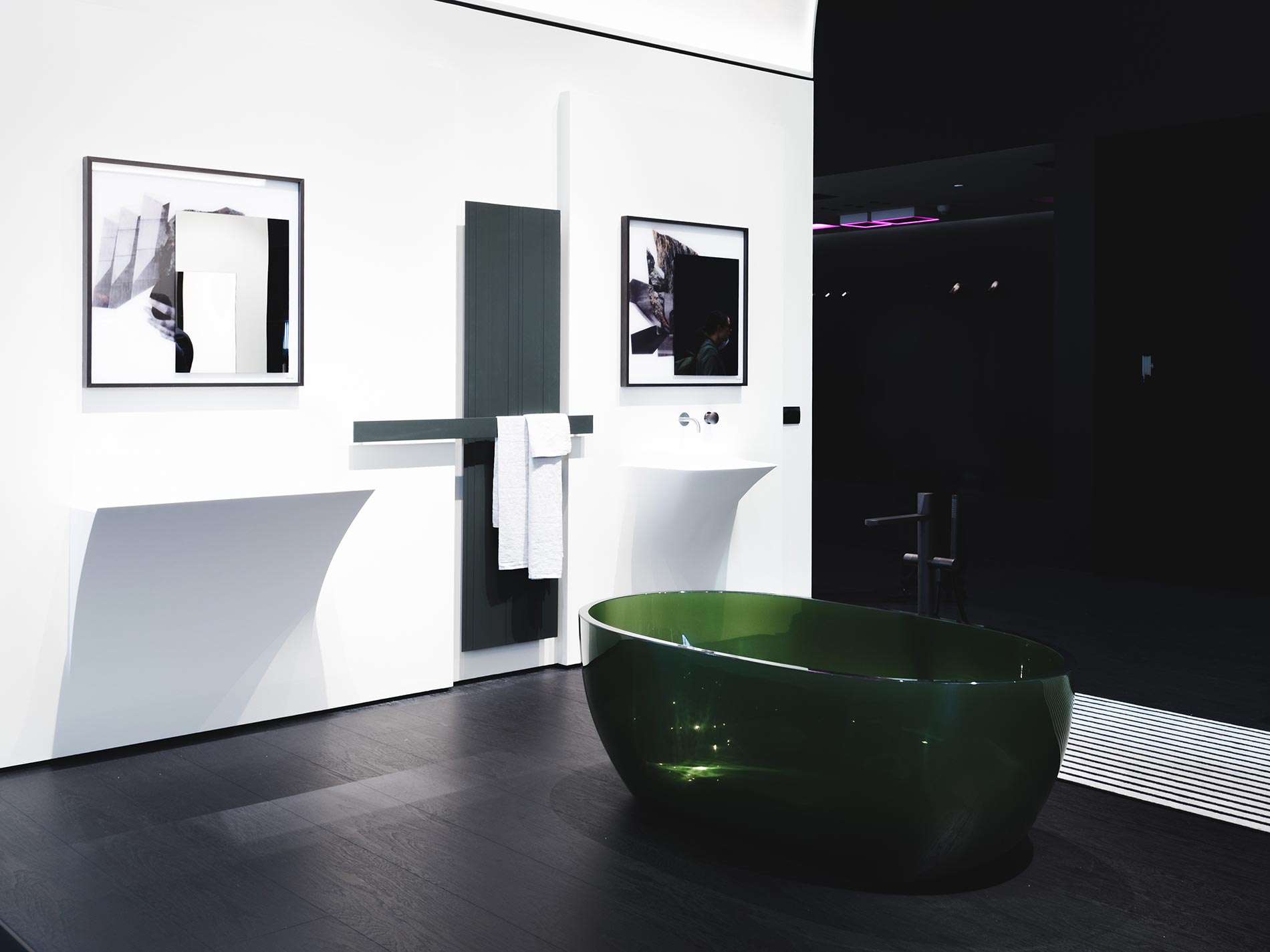 Modern, semitransparent and colourful thanks to the new resin Cristalmood.
Have a look to my article about CRISTALMOOD
Reflex is a freestanding soft shaped bath, but the highlight is its transparency which permits to show movement of the water together with its user and the light. It's perfect for a modern bathroom, dedicated both to pop souls (with its bright colours amber, sangria, cobalto or lime) and the elegant ones (in its colors nebbia and fumé).
Mastello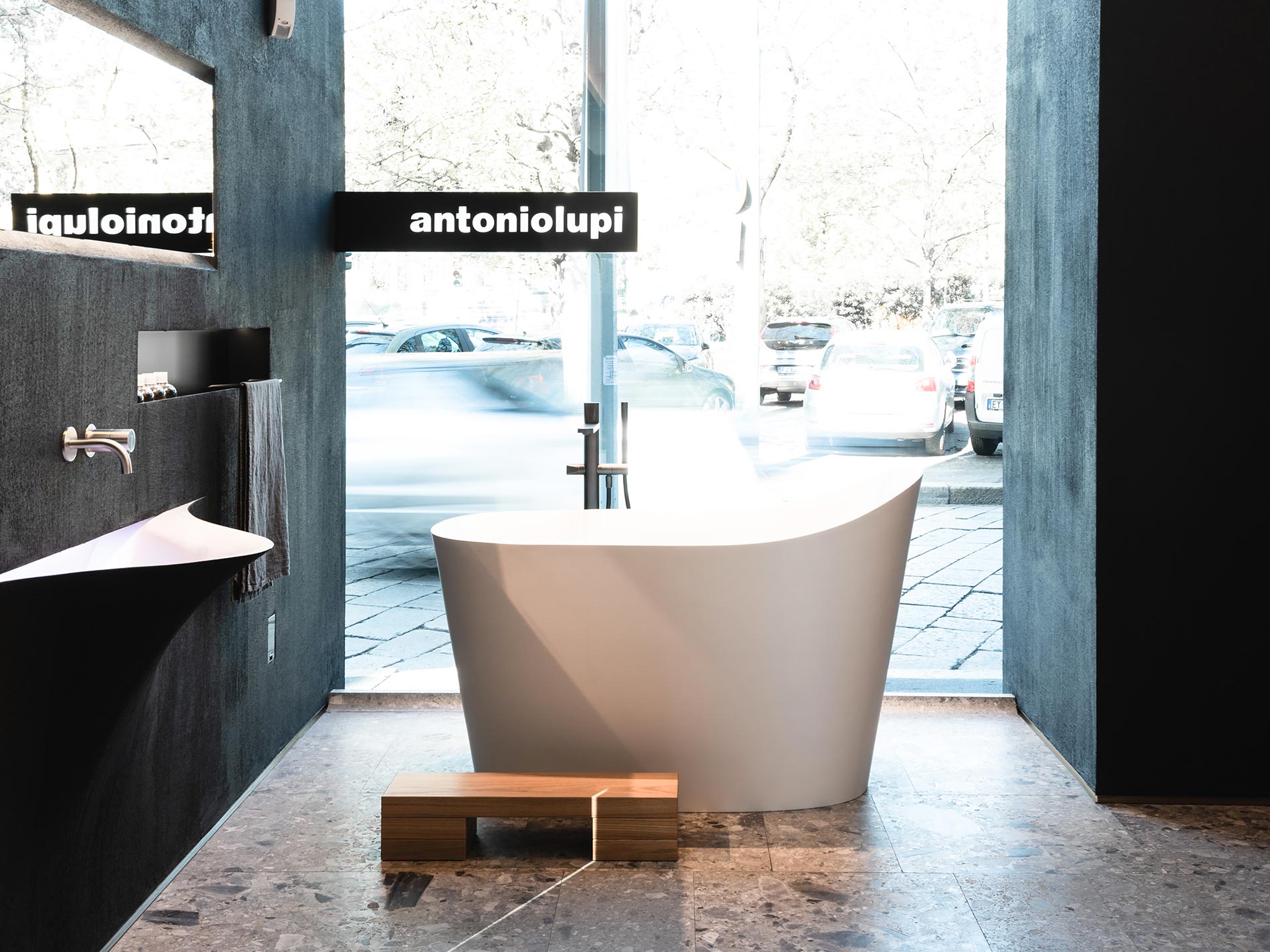 Mastello is the tub in flumood by antoniolupi, 135 cm long but which can host a person 195 cm long! It's a little relax oasis: it's ergonomic with built-in seat and headrest. This bathtub is for the ones who can't give up comfort and design even in a little space.
My journey among the freestanding bathtub ends up here!
Cosa ne pensi? Ma soprattutto…tu di che vasca sei?What do you think? And especially… What bathtub are you?
— This post was written in collaboration with antoniolupi. As usual the opinions are mine and the pictures are Davide Buscaglia's. Hope you are willing to support the brands supporting my blog in turn —