This post is also available in ITALIANO
The moment has arrived and we are all looking for the perfect gift ideas for him: for the boyfriend, for a friend, for the lover, for the brother. In short, for him.
I selected 6 objects that in the last months caught my attention and I thought about 6 different people with their passions and their needs. Result: a wishlist of 6 gift ideas for him that I would like to own for myself.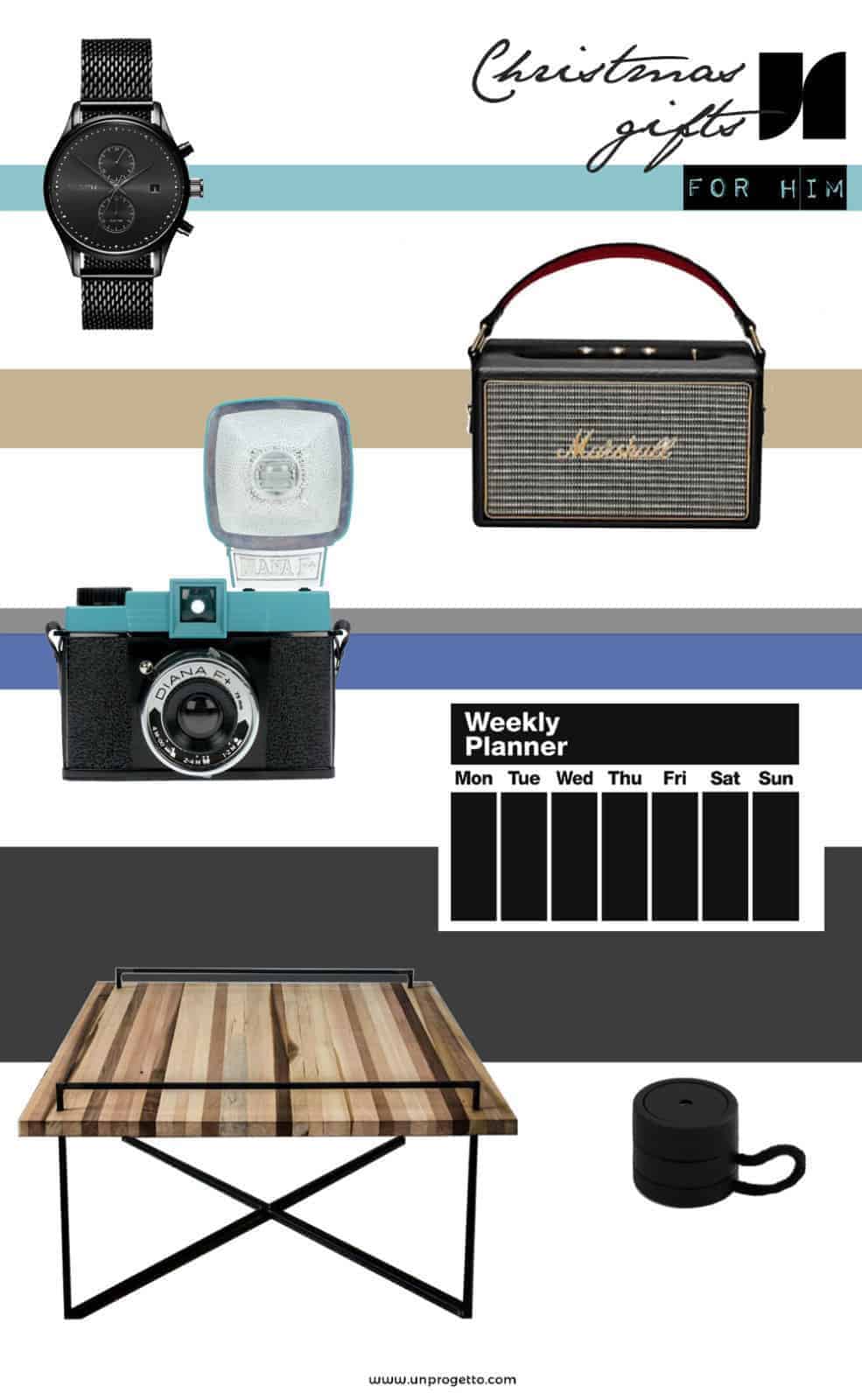 Slate – MVMT
Born from a crowdfunding campaign in 2013, MVMT produces mimimal watches and directly sells them online, them Nato da una campagna di crowdfunding nel 2013, il marchio MVMT produce orologi dal design minimale vendendoli direttamente online, reducing the prices without giving up quality.
150 $
Kilburn – Marshall
Produced by the company that has marked the Rock world thanks to its amplifiers, Kilburn is an elegant bluetooth speaker with a high sound quality. That is why the Marshall added the possibility to connect a guitar, thanks to the 3.5 mm jack cable. Two functions in one product!
239 $
Diana F+ – Lomography
The Diana F + is a return to the past, a faithful reproduction of the Diana that in the 60's has conquered all with its dreamy, radiant and lo-fi shots.
79 €
Weekly planner – WEEW Smart Design
The adhesive blackboard calendar is produced in Italy by WEEW – Smart Design, a Turin project that brings together young designers who have the goal of producing high quality design at a small price.
33 €
Arabico – Carapace
Arabico is a hand-made coffee table produced with recycled wood slats and iron. Carapace are Fabio, Alessandro and Paolo, three brothers who decide to develop and reinterpret their father's work.
tailor-made
Lucina – Palomar
Lucina is a wearable light, perfect for runners. Palomar is the florentine company that since 2001 produces design objects simultaneously simple and unforgettable.
16 €
What do you think about these gift ideas for him? In some day, I will be here with the female version.