This post is also available in ITALIANO
Cersaie, the international ceramic fair for the architecture and the bathroom forniture, starts on Monday.
For the third year running, I'll be in Bologna for the whole week in live direct, together with Il Bagno Oggi e Domani and my collegues Nora, of Design-outfit, Simona of BesideBathrooms, Elisabetta of MaisonLab and Elisabetta of Italianbark.

>>> have a look at the pictures about CERSAIE 2017
Opinions about Cersaie are generally pretty extreme: either you love it or you hate it.
I admit that I love it: it may be because, in depth, I'm an engineer, or maybe because I have the chance to find millions of textures for my instagram account allyoucantexture. Anyway, Cersaie is a fair with a strong personal dimension, in which every brand truly tells about itself, without that outwardly beauty typical of the Design Capital city (Milano, of course).
Where to find me?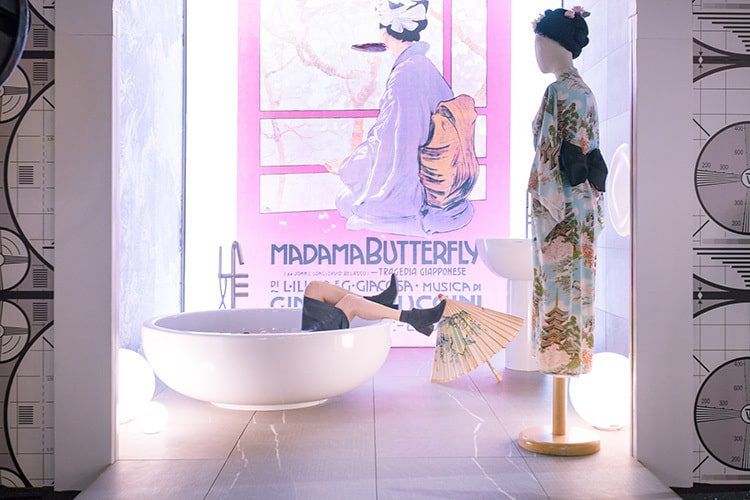 I'll be at the thematic exhibition The Sound of Design, a collective set in the new Padiglione 30.
This year, the two curators Angelo Dall'Aglio e Davide Vercelli, after the theme of water and the one of the cinema, are presenting  "The Sound of Design – Italian Style Contract". It's an emotional journey dedicated to 40 Italian brands with a strong inclination to design; they are going to be exhibited together with the sound of 80 musical jingles, selected among the 70s and 80s most vivid ones.
Starting from Padiglione 30, I'll strolling around the fair, looking for new trends and innovations.
>>> Read trend CERSAIE 2017
Stay tuned on Instagram, Facebook and Twitter.
Hashtag to follow?
#cersaielive #cersaie2018

Isola social >> live on Il Bagno Oggi e Domani