This post is also available in ITALIANO
I've come across Martina's illustrations absolutely by chance, but I have fallen in love with them at first sight. I've felt a strong bond between her experience and mine because of the delicate and melancholic atmosphere she is able to create. Or, maybe, just because some images are more evocative than others.
Martina has recently realized two wonderful projects: Abbecedario illustrato per i viaggi in solitaria and Flora. They create a dreamlike atmosphere which seems to be the same Martina lives in.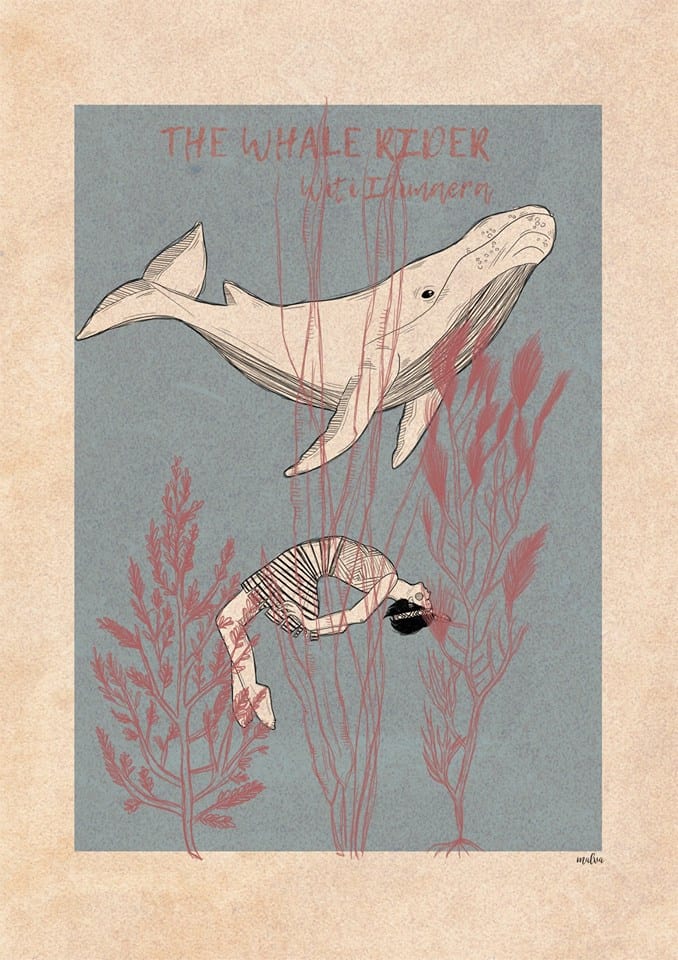 "I collected the most significant key words and I turned them into drawings, so that anyone could get hold of them"
who's Malva?
Malva is me, a person who has found a way of knowing herself and the world by travelling. Thanks to by means of illustration she is able to express this feeling.
I think your Abbecedario is something brilliant! Is that related to your experience? How did you come up with it?
When I was 19 I started travelling alone and due to my habit of writing down whatever I see, I brought home a diary full of memories. Reading them again, I felt the desire to express what I had felt during my solo journeys. Therefore, I collected the most significant key words and I turned them into drawings, so that anyone could get hold of them.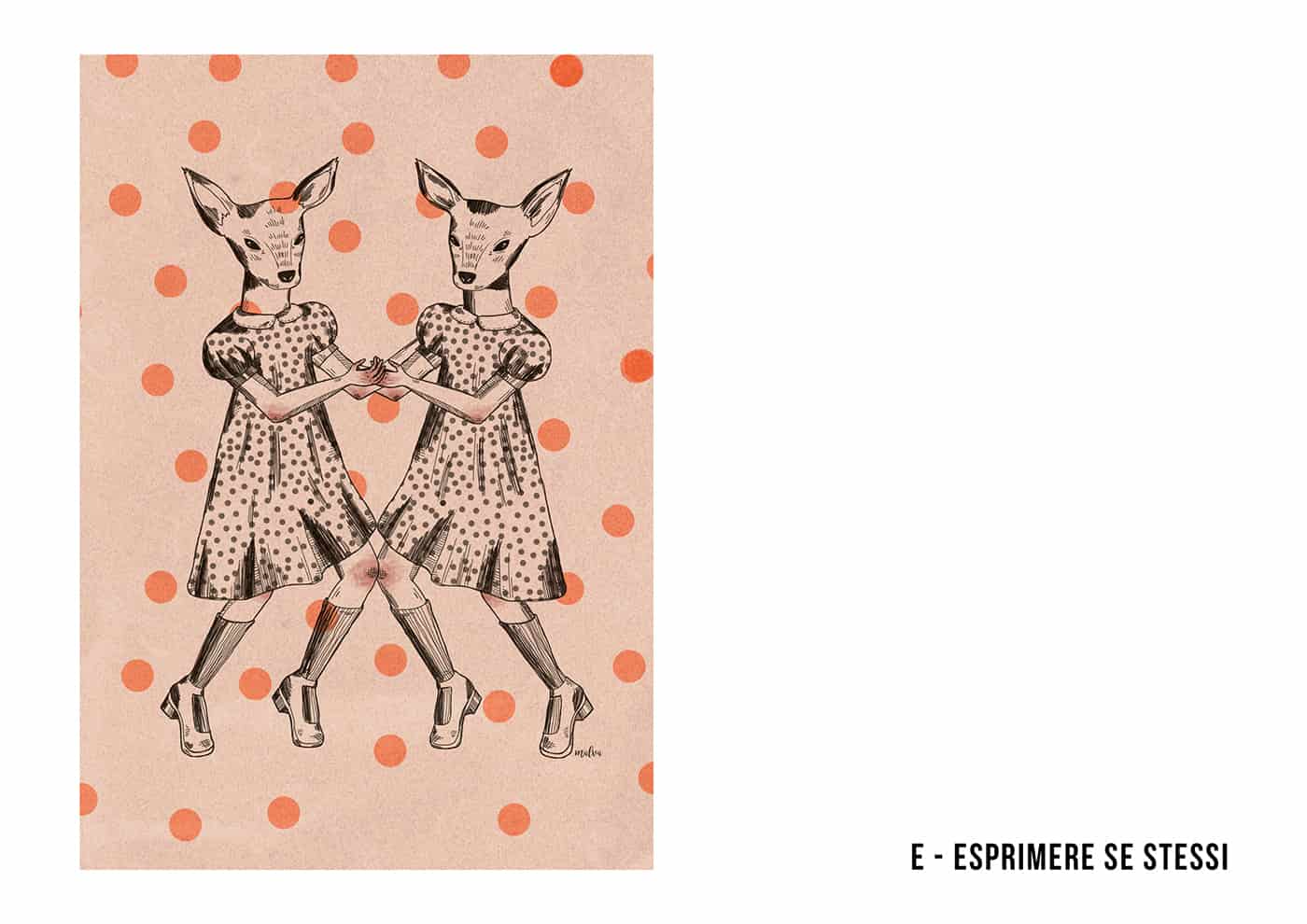 Which visual sources do you use for your illustrations? Is there an artist who particularly inspires you?
I don't really know. I think I've been influenced by every artist I've met, through exhibitions, covers or simple images. I don't draw inspiration on a specific illustrator; my style is actually the result of what I live in my everyday life!
Where do you find inspiration for the subject of your illustrations?
I get inspired by everything: from the objects surrounding me to the people I meet and the sensations I feel. I am fond of clothes, books, second-hand objects, vintage street markets and memories with a story. This has contributed to define my style and give that particular rétro atmosphere.
Now you've been working on a new project, Flora; the bond you managed to define between plants and human beings is somehow wonderful. How did you come up with this idea?
I learnt to love flora thanks to my mother. It's leafing through her biology books that I understood how strong it was the similarity between human beings and plants; the characteristics of a plant could be easily referred to a person.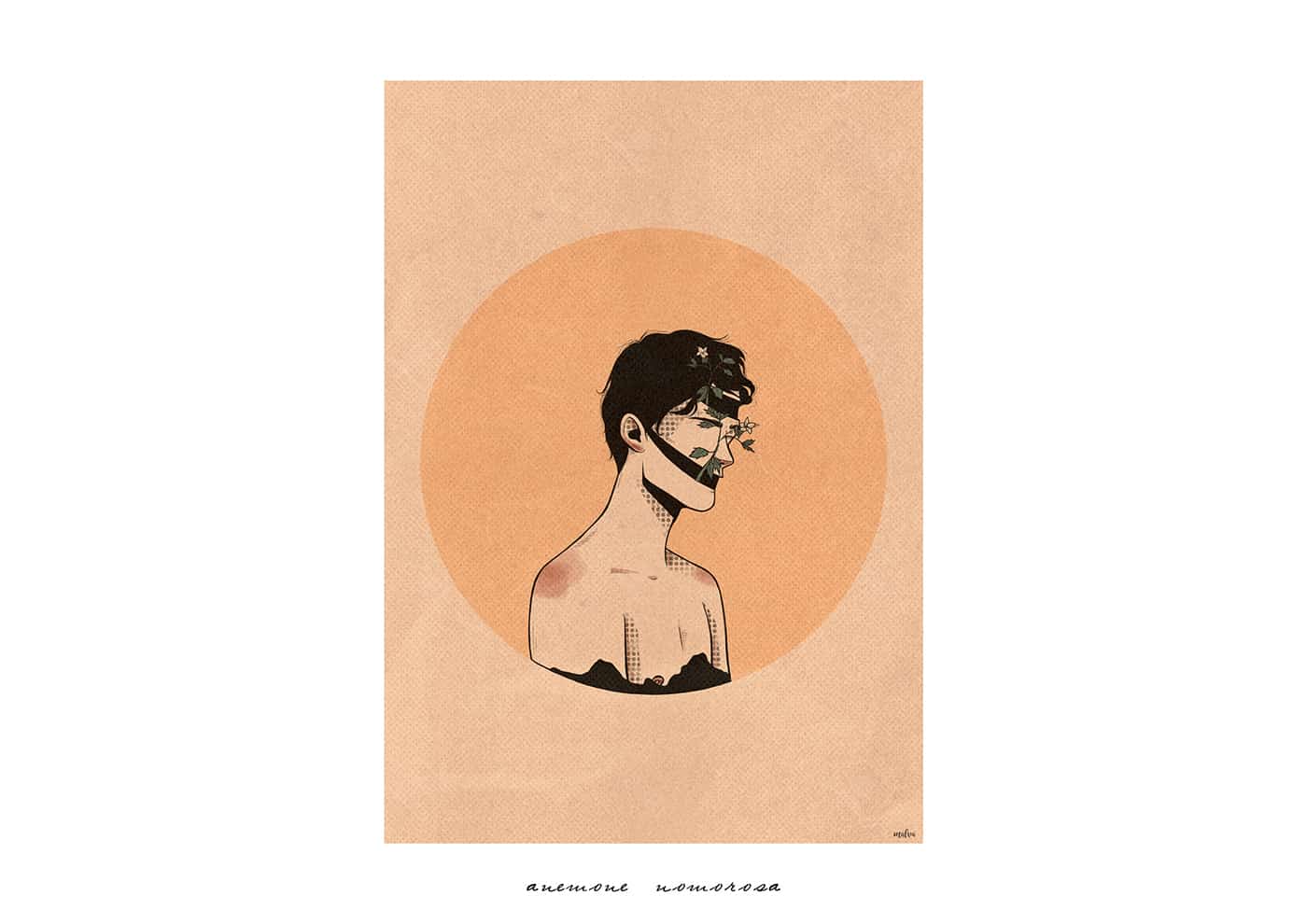 "To me, Artemisa Vulgaris is a tribute to women and their strenght".
Could you Describe your illustrations to a person who can't see them
They are made by simple and delicate lines, surrounded by a rétro atmosphere. So that everyone can give their own interpretation and identify themselves in each of them.
Artemisia Vulgaris from the project Flora is one of my favourite illustrations. Who would you give it to as a present?
The myth says that Artemisia was given to women by the goddess Artemide, from whom it takes its name. It would help to regularise their period and to ease delivery child birth. To me, Artemisa Vulgaris is a tribute to all women and their strength.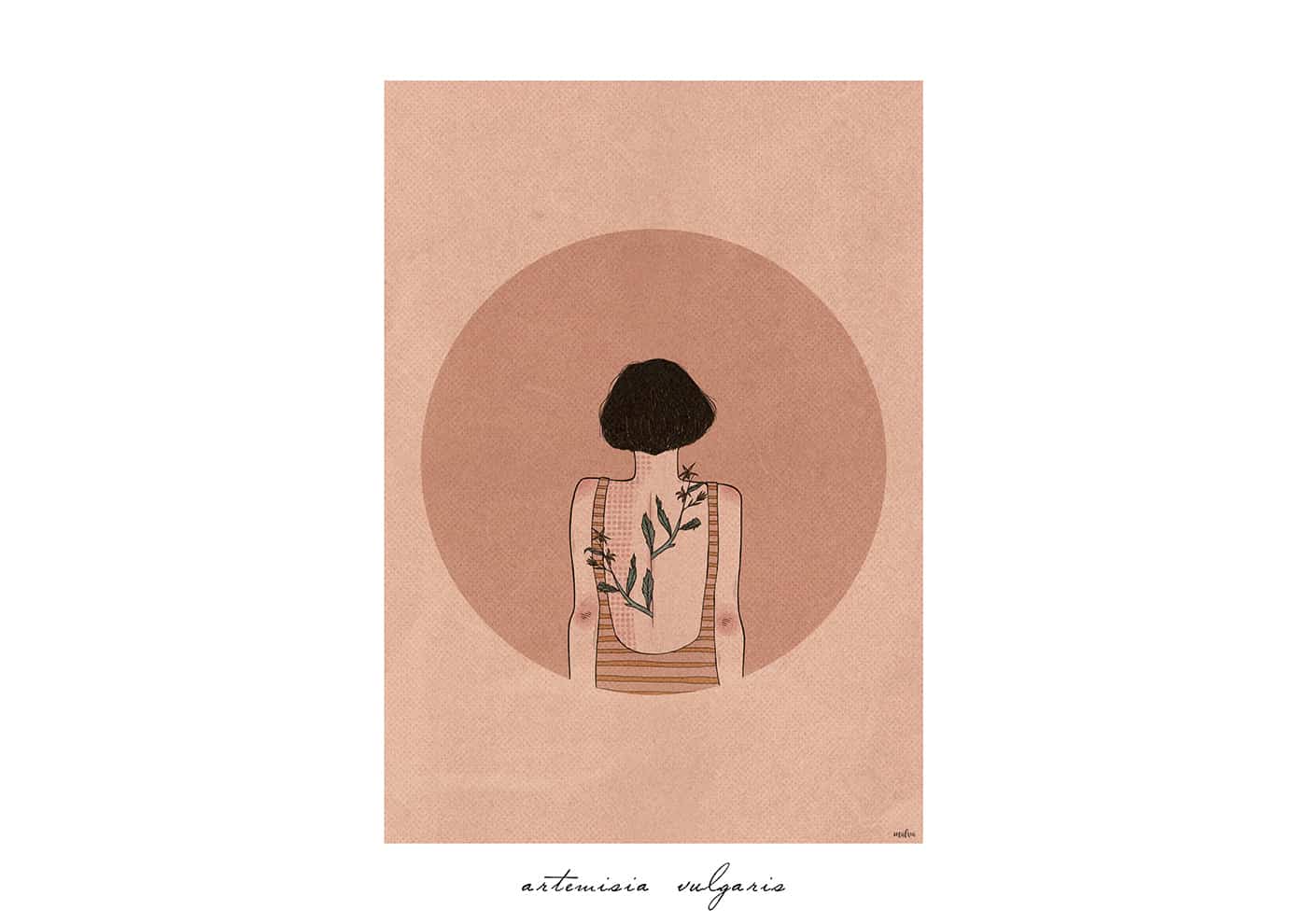 What did you think while you were drawing T- trovare qualcosa che mancava from the Abbecedario?
Like all the other illustrations  which form the Abbecedario, this one doesn't have only one meaning. It represents a concept which can be interpreted according to your own personality.
Every time I have travelled alone, I have found something that was missing indeed; that actually let me discover some inner aspects of mine that unintentionally I had covered up.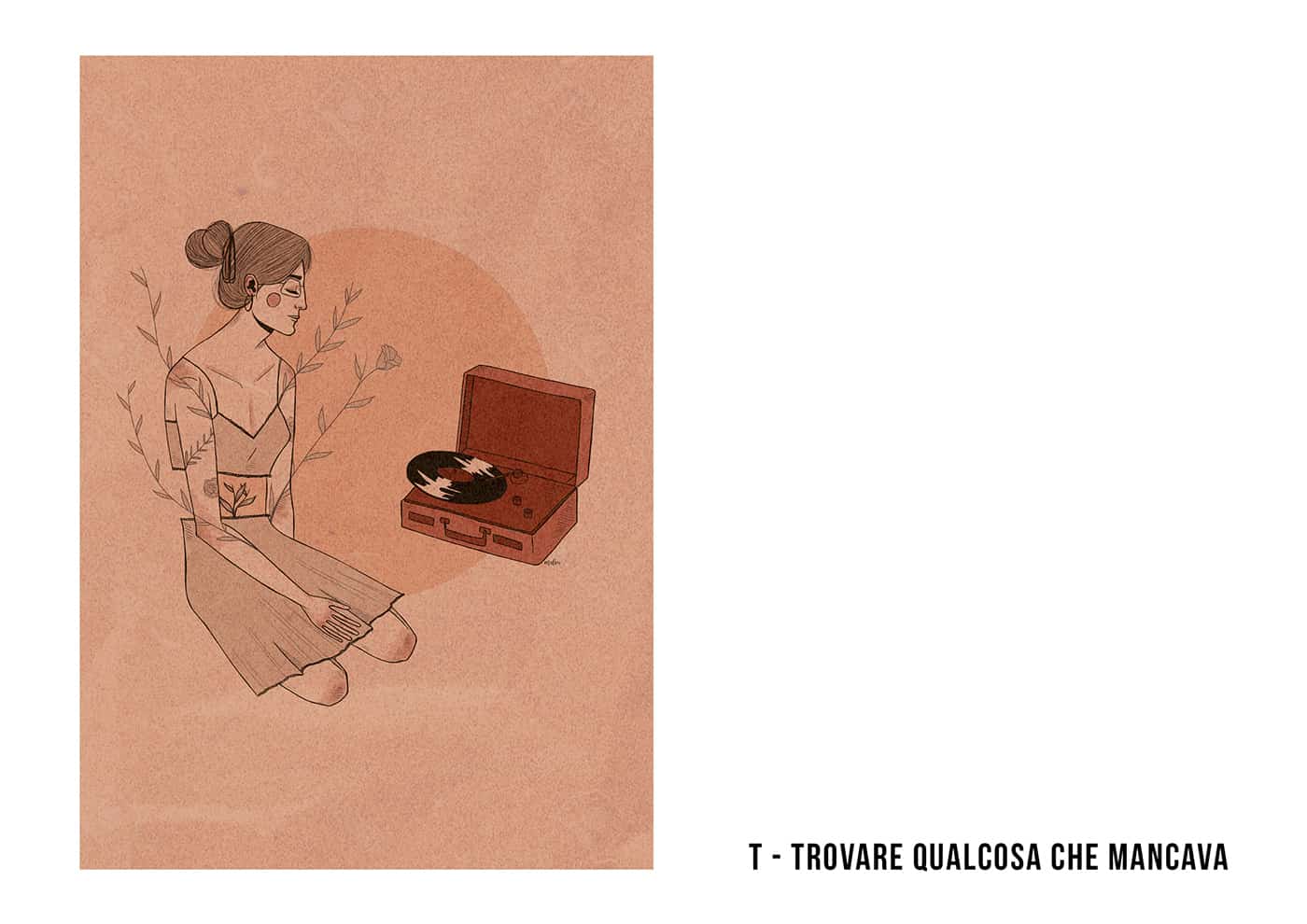 Unprogetto is especially an interior design blog, so I wonder what your home is like. Which is your favourite corner and why?
It may sound obvious, but my favourite place is my bedroom. I put the desk in front of the balcony because I love looking at others' roofs when I work. A sketchbook, a cup of tea, some music and I immediately enter my world.
What's your dream home? Or, if you have more than one, your dream homes?
I'm deeply passionate about Scandinavian scenery, so my dream is a Nordic home. It must have an essential style, natural materials like wood or stone, plants and white all around.
If you enjoyed this, you may also like this post about the events around graphics and illustration not to be missed!