This post is also available in ITALIANO
After the first Ultraviolet moodboard, I took you to a journey to Latin America, to the colours, stories and misteries of Mexico.
Today, still with my last journey to Cuba in mind, I decided to realized a sea moodboard inspired to the ocean and the coral.

In this period everything is clear, the intense light touches everything around us and seems to welcome the seacolours even if we live far from the seaside.
I chose some textiles to represent this atmosphere.
Sea | interior trend 2018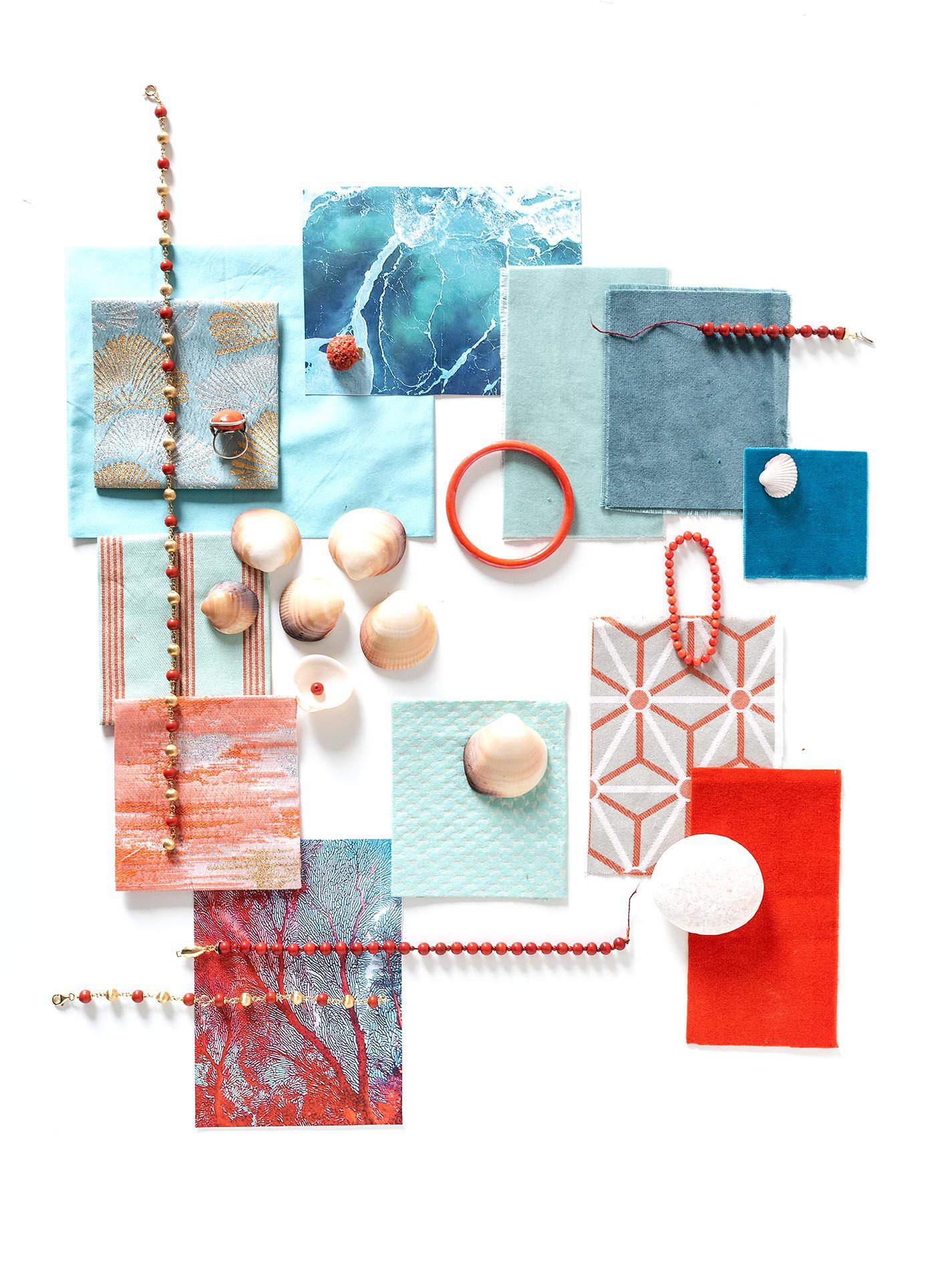 >>> Want to see other moodboards? Here you find all my moodboard!
While writing, Erlend Øye sings note which reminds of Italy, warmth and summer. He moved from Bergen to Ortygia Island and now it seems I'm there: beach umbrellas, sand and the sound pounding… I'm already in an other place, in another dimension.
Realizing these moodboards permits not only to explore colours and materials, but also to reflect on my life and to learn.
Sea has always a constant in my life, even if I decided to live in Torino. I used to spend mt summer holiday at the seasida; Sardinia, Greece, Puglia, Lampedusa and Calabria are still the background of the work I make today, when I choose colours and shades.
However, there is not only the sea in this moodboard; next to the light blue and all its shades, I needed something elegant, strong and rare. I chose the coral.
First of all, I discovered the coral is not a plant, but an animal. The myth says it origined from Medusa's blood, that being whose gaze petrified everthing and everyone. It is a fascinating material, centre of many ancient culture, from Celts to Africans.
l'Opificio
From l'Opificio's collection I chose:
Cotton velvet in four different shades.
Popcolor Riga fabric.
Bloom Ginko in the light blue shades and Bloom Ikat in the coral shades.
Tendre Modu fabric.
Steila, one of l'Opificio's icon.
>>> You could be interested in: VELLUTO | INTERIOR TREND 2018
Defending beauty
Back to me. Hic et nunc. Looking at the moodboard I could say a word: Ocean. And in the same moment I pronounce it, it starts an association. Some days ago I read about the terribile situation of our oceans: there are tons of plastic as big as the Iberian Peninsula.
I tried to imagine a moodboard with a plastic bottle, a can and a straw on it. The more I think of it, the more I realize that speaking of beauty could be a chance to speak of troublesome topic. Then, in front of an armonic composition of colours, I bring my head out the sand to get aware that beauty is not an eternal condition.
Beauty will save the world, but we have to defende it.