This post is also available in ITALIANO
The day I met L'Opificio at Maison&Objet I got eyes on their sample cases; each of them is dedicated to one of their collections.
I thought it would be amazing to mix all those colours to create a new reality. That's why, together with Paola, I decided to make an experiment: selecting four trends and realizing moodboards with their fabrics.
So, after the first moodboard about Ultraviolet, today I got inspired by a place: Mexico and South America!
Well yes, because while this year's colour is surely Ultraviolet, the culture the designers are looking at is the south American one. Actually, South America not only is the main inspiration of design, but also of fashion and interior world.
I started a long travel among its colours, energy, mystery and art, giving in to my creative and irrational part, away from the linear and simple shapes. South America is different: it's turmoil, energy and colour. The shapes are definitely more complicated and tell the story of people.
>>> Read the interview to  Barbara Bertoldo, l'Opificio's designer.
Mexico | creativity and fight for freedom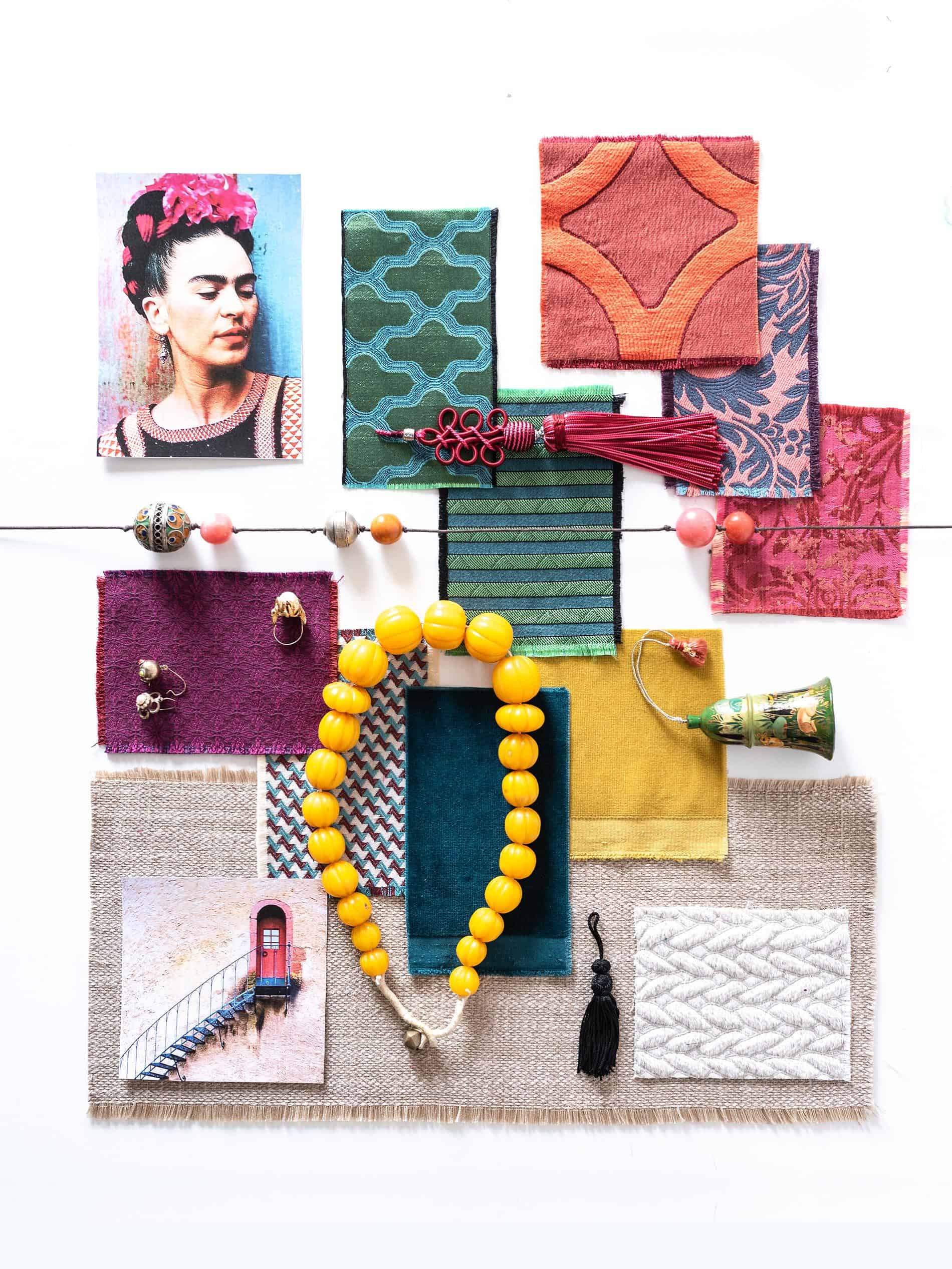 I thought about "Coco", the animation film about Mexico, its culture and its tradition. If you've never seen it, you should! It's a film that manages to move adults too; the protagonist is a boy in love with music and with lot of dreams.
Then I thought about Frida Kahlo, eclectic and pop icon par excellence. Her life has been told by films, documentaries, books and exhibitions. She exerts a mysterious fascination dued to her tough life.
Frida (as well as Coco) was able to realize her dream. And she managed, painting her reality without embellishment and not following any contemporary codes. She simply transformed her sorrow in art.
Well, Frida is a great source of inspiration, not only for this moodboard. Telling about her means getting in touch with a passionate and energetic woman, who faces the difficulties with great strenght. That's why I imagined this moodboard for a woman like her, who dares without concerning about others' opinion.
L'Opificio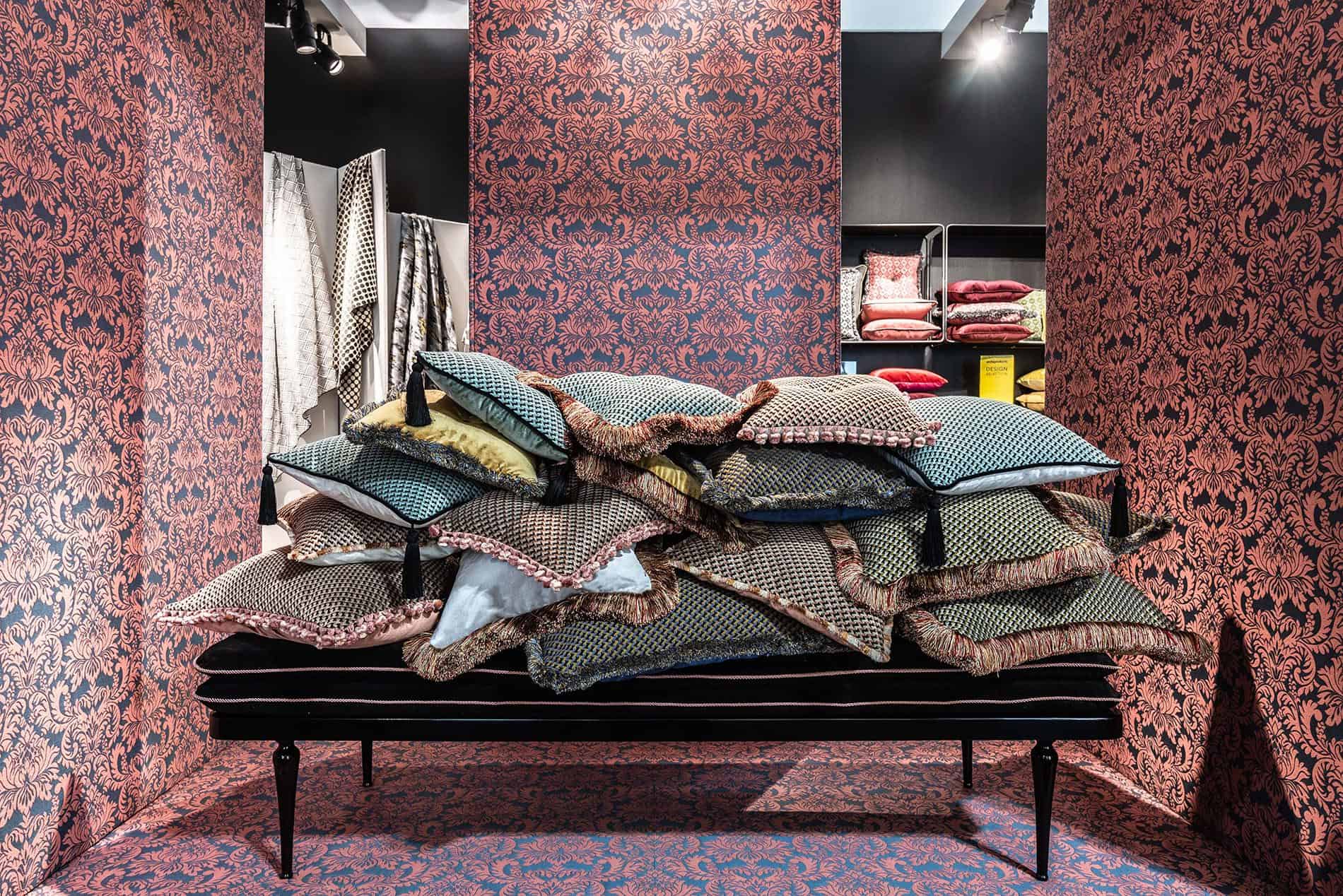 From l'Opificio collection I chose:
Perlain in the two versions Rayure and Moresco.
Loop, the last collection presented to Salone 2018
Vision that reminds me of the South America
Velluto di cotone in two different nuances, mustard and petroleum blue.
Torino 06 created for the winter Olimpic Games 2006.
Vocalese Treccia, a twist of the colour of the sand.
Epoca Vintage, because everything has a value, the old and the new.
Pop Colour, a cachemire pattern in total modern version.
>>> Have a look to secrets of Velvet
Off the limits
I know, I used a lot of fabrics for only one moodboard, but I mean, Frida Kahlo is also this, isn't she? It's daring, exaggerating and playing with fantasy.
Composing this moodboard I felt a lot of sensations: the happiness and the energy typical of South America, but also a more delicate one. The respect and the memory of who is not here any more, but that actually contributed to the person I am.
Actually this is also part of the South American culture, the subtle line between life and afterlife.