This post is also available in ITALIANO
At the beginning of this year, L'Opificio, a textile company which produces and exports high quality textiles all over the world, asked me to interpret its fabric through four inspiring moodboards.
Obviously, my first thought was: "just four themes! what shall I choose?" and then "I'll go to the showroom and get as many pieces of fabric as I can"
At that point I cooled down and decided I'd try to intepret the themes which, in my opinion, were going to be trendy in 2018.
I don't mean microtrends, typical of interiors like shim pink, stadium, velvet or gold, which I have widely talked about, but rather macrotrends, which involve more than one area in our life.
I started from Ultraviolet, colour which represents the cosmos and our wish to dream, the possibility of escaping and our ability to trigger imagination.
Secondly, I thought of Mexico, which this year has been so present in our lives to make alpacas one of the most searched animals on the web.
Then, I went for Oceanomare, which stands for being environmentally friendly and making the sea clean and in good conditions, recalling our ability to do things properly and carefully.
Finally, I chose Pop, which goes back to the past of the 70s and 80s, when being yourself, a sort of hero, and having fun was possible, even for just one day.
Pop | Interior trends 2018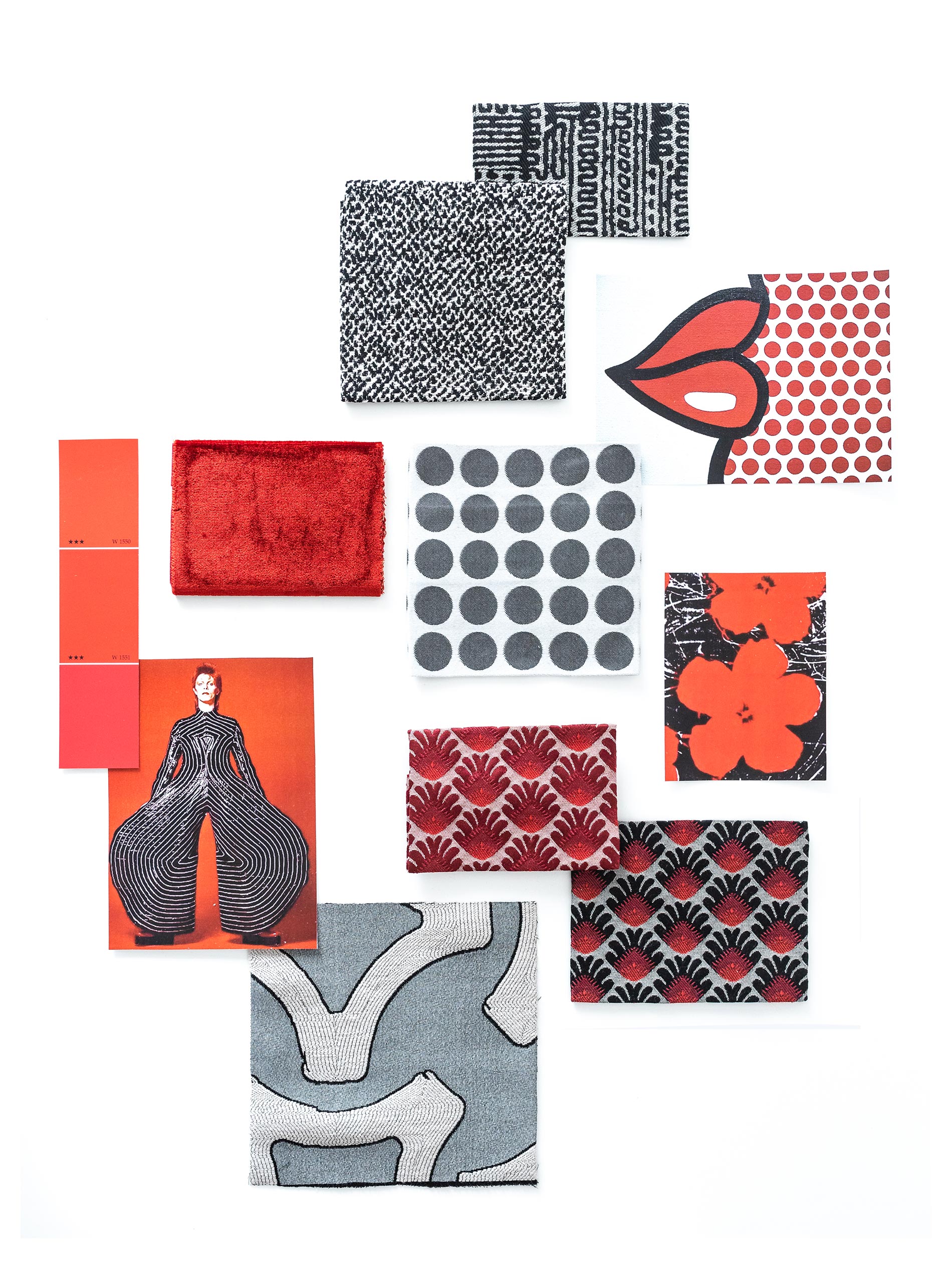 Initially I thought of David Bowie with his Heroes, now I find myself considering Freddy Mercury and the film which narrates his life, Bohemian Rapsody, too.
They share the same years, their wish to take action and talent.
In 2018 we  have looked back on the 70s and 80s and we still will in the following months, with big shoulder jackets and optical dresses.
In interior design, this trend is evident in the red colour which has lately reappeared together with earth tones, pink, or black and white, which enhances the contrast.
That's why I decided to use this contrast as icon of pop style: I imagined a bright apartment where black, white and red were part of an imaginary palette without any domineering tone.
l'Opificio
From the collection L'Opificio, I have chosen:
silk velvet in red
Euphoria Polka Dots fabric, as Roy Lichtenstein's dots can't be missing when dealing with pop
Parlapà Vantaj fabric with its double red version, one of my favourites
Vision fabric, in its grey tones, which renovates the optical fabric with a geometric macrotexture
Resident fabric, Eshu and Graph version, charming and three-dimensional collection
>>> It could be interesting: VELVET | INTERIOR TREND 2018
Pop Art
I can't think of pop without the work art. The world and the aesthetics completely changed thanks to artists like Andy Wahrol, Keith Haring and Jean Michel Basquiat.
I'm thinking about the art value and its importance to make it available to everyone. While writing, it comes to mind the most trendy work of art of 2018.
The Baloon Girl by Banksy, the one which destroyed during the Sotheby's auction, in London.
Once more, the colours are white, black and red and the artist comes back to make the news again.
Perhaps, POP was really a trend.
Will it last?
I guess so.